Exemplification of the Fourth Degree
Sunday, March 12, 2000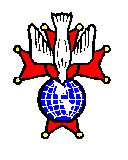 General Information: The Fourth Degree Exemplification will be held on Sunday, March 12, 2000 at the University of Maryland Center for Adult Education in College Park, Maryland.
Honoree: S/K Edward P. Srsic, PGK, PFN, Secretary to the Master
Application Information: To apply to be a member of the Fourth Degree, you must be:
A Third Degree member in good standing of your council, initiated into the First Degree prior to March 12, 1999.

A practical Catholic in good standing with the Church.

Over 18 years of age.
Applications for membership (Form 4) may be obtained from your assembly. The date they are due will be announced
Deadlines:
Applications: Applications must be received from your assembly not later than February 15, 2000. Some assemblies may conclude their membership drives in advance of this date due to meetings.

Banquet Reservations: Reservations for the banquet will close on February 15, 2000. There are also additional closure dates for current members of the Fourth Degree.

Fees: All fees must be paid at the time of application.

Cancellations: Candidates unable to attend the degree should contact the District staff as soon as possible.
Dress: The official dress for candidates is black tuxedo, white formal shirt, black tie and cummerbund, black footwear. Priests and active members of the military may wear their clerical attire or dress uniform respectively. Current Sir Knights should wear the official dress and social baldric.
Information: If you need any additional information, contact a local assembly.
Questions? Try our Q&A Page
Schedule for the Exemplification
| | |
| --- | --- |
| Candidate Reistration | 10:30 AM |
| Registration closes | 11:15 AM |
| Ladies Social | 11:30 AM |
| Exemplification of the Fourth Degree | 12:30 PM |
| Ladies Entertainment | 12:30 PM |
| Banquet | 5:30 PM |
For information on charges associated with this information, contact your Faithful Navigator.
Back to the District Home Page
(c) copyright 1999, Lord Baltimore Assembly