Exemplification of the Fourth Degree
Sunday, April 25, 1999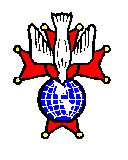 General Information: The Fourth Degree Exemplification was held on Sunday, April 25, 1999 at the University of Maryland Center for Adult Education in College Park, Maryland.
Honoree: S/K John J. Glynn, PSD
A total of 104 candidates were initiated into the Fourth Degree.
Questions? Try our Q&A Page
Need Council Affiliation Information?
Back to the District Home Page
© copyright 1998, 1999 Lord Baltimore Assembly