The Knights of Columbus
in Calvert County, Maryland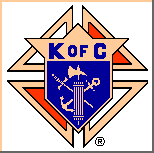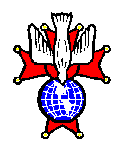 Updated July 2, 2000
Welcome to the web pages for the Knights of Columbus in Calvert County, Maryland. This site consists of the work of many individuals and the councils and Fourth Degree in Calvert County to provide a single point of reference to our activities.
On this Site:
NEW: Check out recent changes on this site. Visit the Webmaster's page.
Calvert County
Calvert County, Maryland was erected by Cecelius Calvert, second Lord Baltimore in 1654. The original county encompassed not only what is now Calvert County, but also portions of St. Mary's, Charles, Prince George's and Montgomery Counties in Maryland and well as the District of Columbia. As new counties were added, Calvert went from being the largest county in Maryland to the smallest.
The county is located approximately 25 miles southwest of Washington, D.C. along the shores of the Chesapeake Bay and is bounded on the west by thePatuxent River. Several notable figures in U.S. and Maryland history were born in Calvert County, the most notable being Chief Justice Roger Brooke Taney.
Other Knights of Columbus Sites
For more information about the Knights of Columbus or to link to other councils and assemblies, try these sites:

Click here to see List of all Current Members
The above Knights of Columbus Web Ring fragment has been adapted for accessibility features of HTML 4.0 according to the specifications in the WAI Accessibility Guidelines.
These pages are provided as a service by Tripod, Inc. Information on these pages is the responsibility of Lord Baltimore Assembly No. 2470, Prince Frederick, MD and any opinion is not endorsed by Tripod.
Please feel free to contact our webmaster at pln2470@usa.net to report any problem with links on this site.