Our Community
Calvert County, Maryland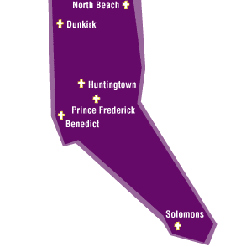 Named for the Calvert family, proprietors of the Maryland Colony, Cecelius Calvert, second Lord Baltimore, envisioned his own manor within the county near what is now Solomons. The burdens of the proprietorship kept him in England and his manor was never developed.
To the north is Chesapeake Beach, developed as a holiday spot away from Washington. While a bustling community by the bay, today the remnants of the first and only railroad in the county are visible at the Chesapeake Railway Museum.
Solomons once boasted the largest fishing and Oyster fleet on the bay. The history of the era is on exhibit at the Marine Museum. Solomons is also home to the Naval Surface Weapons Center.
South of Prince Frederick lies Battle Creek Cypress Swamp Park, the northernmost stand of cypress trees in the United States. Further south are three ecologically significant habitats: the American Chestnut Land Trust, Calvert Cliffs State Park, and Flag Ponds Park. Also in Calvert County is the Jefferson Patterson Park and Museum of archaeology and history.
Historically, it was in the creeks off the Patuxent River that the British navy experienced several defeats against American barges during the War of 1812. In retaliation, the British burned Huntingtown. A similar attempt to burn Prince Frederick a few nights later led to the British being routed in Calvert County, turning their attention upon Washington.
To the south, in St. Mary's County, lies the first capital of Maryland: St. Mary's City, a living museum to the colonial era
The Catholic Church in Calvert County
Nearby in Charles County:
Parochial Schools
There are two parochial schools (elementary)in Calvert County:
Our Lady Star of the Sea School in Solomons

The Cardinal Hickey Academy in Dunkirk
Back to Charter Members
Forward to Bulletin Board